A. Hand-Woven Ethiopian Basket
(3 winners)
These gorgeous baskets (1 per winner) are made by women within a 100-mile radius of Addis Ababa, Ethiopia, with traditional colors and designs. Their purchase benefited Bridge of Faith, whose purpose is to mobilize people and religious organizations in New Jersey to support a variety of health, education, and human service programs in Awka, Nigeria. Each basket comes filled with chocolate and a Bridge of Faith pamphlet!
B. Raffle Romance Bundle
Duct Tape Roses

: Allegra will craft six duct tape roses and mail them to you! You choose the color(s).
Cookies: Lilly Jacobson, another current JOIN fellow, will bake cookies of any variety! Gluten-free and vegan options available.
Lilly, Cookie Baker of Your Dreams
The perfect gift for any allergy-prone friend/lover!
C. Editing
Allegra will edit one or two documents, up to twenty pages total. All genres are welcome! Feedback can be limited to grammar and style, or can include more substantial comments, depending on your preference.
Allegra is hard at work on the text for this raffle.
D. Babysitting Bundle
(Boston area only)
Allegra wants to play with your children! Any number of them, for up to four hours! This prize depends on finding a mutually agreeable time. Allegra is happy to provide references upon request, and has experience with children with disabilities. Allegra will provide a story and cuddly friends (see below!)
Allegra is better than Mary Poppins!


I'll get your kid to bed in no time with these fun items (yours to keep!)



E. Nail Painting
(Boston area only)
Hannah White, JOIN for Justice staff member, will paint your fingernails and/or toenails! Hannah is a self-taught nail artist extraordinaire, and she will work with you to design the nails of your dreams!
F.
Music Galore Bundle!
One Basic Guitar Lesson with Erica

(Boston area)
Do you have a guitar but don't know what you're doing? Do you want to learn some basic chords and impress your friends/girlfriends/random people at parties? Erica is here to help!
You, too can serenade your friends!
Four CDs from Laurel Tree Records
Another Guitar Lesson! (Boston area)
One free hour-long private guitar lesson (worth $50.00) with professional guitarist and music teacher Jack Soref. Jack Soref has been teaching and playing professionally for over a decade, and has taught masterclasses at music festivals across the country as well as the Berklee College of Music, and a number of high schools in the New England area. For more information about Jack's music, feel free to visit http://www.jacksoref.com.
G.
Get Buff and Give Money Bundle
(Boston area only)
Workout training with Erica

: as a collegiate athlete I learned a great deal about fitness and training that I'd love to pass on. We can do a variety of activities combining cardio and strength that you can use later on in your own workouts!
2 one-time passes to Gym-It on Commonwealth Ave:

An amazing gym on Commonwealth Ave. and St. Paul (accessible on the Green B-line).
Rugby Ball:

If you have ever wanted to play, know someone who does, etc. this is an official sized rugby ball good for practice or a gift to your favorite rugger!
H. Hand-Woven Challah Cover
Sarah Resnick, a current JOIN fellow,
is a weaver specializing in hand-dyeing and Jewish ritual textiles.
This hand-dyed, handwoven challah cover would be a beautiful addition to your Shabbat table. She paints the warp (vertical strings) in a range of vibrant colors.
Community Organizer and Weaver extraordinaire!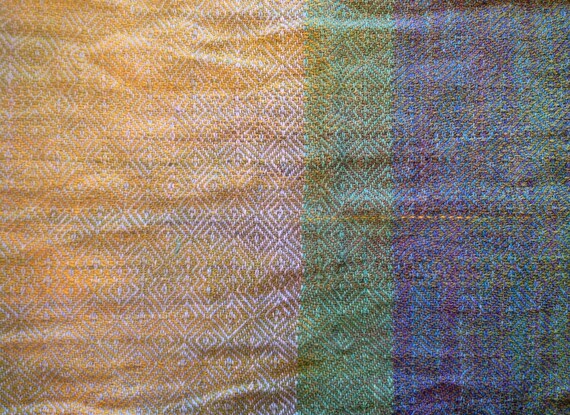 Check out Sarah's work at
http://redearthweaving.com/
I. Spanish 101 Tutoring (Boston area or Skype)
Getting ready for a trip to a Spanish-speaking country? Need help with your Spanish homework? Laura Heath is here to help! Laura is a fluent Spanish speaker and has traveled and lived in Latin American countries and Spain. Enter to win two two-hour sessions to brush up on your Spanish or get ready for a trip!
Vamos a aprender! (We will learn!)
J. Try a New Look Bundle
Super rad haircut (Boston area only):

JOIN's current Fellowship Director, Ilana Lerman, will give your hair an amazing cut!

Ilana's hair is pretty awesome!
T-shirt:

Who doesn't want a t-shirt with a fish on it?
Cufflinks:

These incredible Joseph Abboud silk cufflinks will certainly turn heads!



You fancy, huh?
K. Homemade Iranian Dinner (Boston area only)
Emilia Diamant, a current JOIN Fellow, will cook you the best meal of your life....seriously. Her Iranian dishes are sure to please. You choose vegetarian or meat. Emilia can cook at your house or cook at hers and deliver this amazing meal for up to four people.
You'll want to kiss Emilia too, after you taste her Iranian cooking!
L. Orange and Cream Comfy Computer Chair
Let your bottom rest on this lovely chair. Good as a computer chair or just for when company comes over!
Take your wardrobe to the next level with these fabulous accessories!
a small World Wildlife Fund purse
three black and silver bracelets
a pair of silver and gold earrings
a nickel silver Star of David necklace made in Ethiopia (with the hand-woven baskets!) and assembled in Kenya
This fabulous bundle includes...
a Blush brand purse
a nickel silver Star of David necklace made in Ethiopia (with the hand-woven baskets!) and assembled in Kenya
a red and silver Star of David bracelet
a Hebrew magnetic poetry set
Where do you fit in?
Not in the mood to work out with Erica or go out on the town with snazzy new silk cufflinks? Would you rather stay at home, pull on some fuzzy socks, and read a good book or draw in a sketchbook? Then this is the bundle for you! You'll get...
The Girl with the Dragon Tattoo by Stieg Larsson
The Girl who Played with Fire by Stieg Larsson
The End of Men by Hanna Rosin
The Mind's Eye by Paul Fleischman (uncorrected proof)
Dr. King's Refrigerator by Charles Johnson
The Paris Wife by Paula McLain
Athletes with Disabilities by Deborah Kent
a beautiful sketchbook
a blue incase brand laptop case
fuzzy socks (not shown below)
Want to get organized? Need help setting goals? Does being scattered get in your way? Kate Rafey, a current JOIN fellow, is here to help! In one one-hour session, she will help you organize your life and boost your productivity!
Looks organized and productive, doesn't she?
We are grateful to everyone who donated prizes and made this raffle possible: Jane Matlaw, Hannah White, Lilly Jacobson, Emilia Diamant, Collene Stout, Laura Heath, Sarah Resnick, Kate Rafey, and Ilana Lerman. Thank you! Your support shows the strength of the JOIN community.
Thanks for reading! Please follow this link to purchase raffle tickets and indicate which prizes you want to win: https://organizing.wufoo.com/forms/donate-to-erica-and-allegras-join-raffle/